Prom night is a magical occasion that every young individual looks forward to. From the perfect dress to flawless makeup, everything matters to create an unforgettable impression. One key element that can elevate your look to the next level is your hairstyle. In this article, we'll explore the most captivating and glamorous Prom Hairstyles for 2023 that will leave you feeling like a true red carpet star. Whether you prefer elegant updos, chic braids, or flowing waves, we've got you covered with a plethora of options to suit your personal style and make you the center of attention at the prom!
Also Read: What is the Most Popular Brown Hair Color?
Prom Hairstyles 2023 That Will Make You Feel Like a Red Carpet Star!
Get ready to be inspired by the hottest Prom Hairstyles for 2023. These styles are sure to turn heads and make you feel like a celebrity.
1. The Classic Hollywood Waves
The timeless allure of Hollywood waves never fades. These luxurious, flowing waves exude elegance and sophistication. To achieve this look, start by curling your hair with a large barrel curling iron, then gently brush them out for soft waves. Finish with a spritz of hairspray for a red carpet-ready finish.
2. Sleek and Chic Ponytail
For a sleek and modern look, opt for a high, polished ponytail. This hairstyle is effortlessly chic and goes perfectly with any gown. To add some extra glamour, wrap a strand of hair around the base of the ponytail to conceal the elastic.
3. Braided Crown Princess
Channel your inner princess with a beautiful braided crown hairstyle. This ethereal and romantic look is created by weaving small braids around the head, forming a crown-like effect. It's a perfect choice for those who want a touch of whimsy in their prom look.
4. Messy Bun with Embellishments
A messy bun is the epitome of effortless glam. To achieve this look, gather your hair into a loose bun and let some strands fall gracefully around your face. Add some glitzy hairpins or sparkly accessories to take it to the next level.
5. Half-Up Half-Down Twisted Elegance
For a look that's both polished and relaxed, try a half-up half-down twisted hairstyle. Twist sections of hair from each side of your head, securing them at the back with bobby pins. This style keeps your hair out of your face while showcasing its natural beauty.
6. The Boho-Chic Fishtail Braid
Embrace your inner bohemian with a stunning fishtail braid. This loose and romantic braid is perfect for those who want a laid-back yet stylish prom look. Pull out a few face-framing strands for an effortlessly dreamy appearance.
7. Glamorous Old Hollywood Updo
Transport yourself to the golden age of Hollywood with an old Hollywood updo. Think sleek, glossy curls and carefully sculpted waves for a look that oozes glamour and sophistication. This style pairs perfectly with vintage-inspired gowns.
8. The Effortless Chignon
The chignon is a classic updo that never goes out of style. It's an elegant and sophisticated choice for any prom night. Create a low bun at the nape of your neck and let a few tendrils escape for a touch of softness.
9. Bouncy Curls with Deep Side Part
Create a statement with bouncy curls and a deep side part. This look exudes confidence and charm. Use a curling wand to create voluminous curls, and then sweep them to one side for a touch of Hollywood glamour.
10. Sleek and Straight with Middle Part
If you prefer a sleek and modern look, opt for straight hair with a middle part. This minimalistic style is effortlessly chic and allows your dress and makeup to take center stage.
11. Romantic Floral Accessories
Embrace the romance of prom night with delicate floral accessories. Whether you choose a flower crown, floral hairpins, or a single statement bloom, these accessories add a whimsical and enchanting touch to any hairstyle.
12. Grecian Goddess Updo
Channel the beauty of ancient Greece with a Grecian goddess updo. This hairstyle features soft, flowing curls and twists, reminiscent of ancient sculptures. It's a stunning choice for those who want to exude grace and poise.
13. Braided Ballerina Bun
For a dance-inspired look, go for a braided ballerina bun. This elegant and refined hairstyle keeps your hair neat and secure while allowing you to move gracefully throughout the night.
14. The Romantic Waterfall Braid
Create a dreamy and romantic look with a waterfall braid. This intricate and cascading braid adds a touch of fairytale charm to your prom ensemble.
15. The Regal Crown Braid
Feel like royalty with a regal crown braid. This majestic hairstyle involves braiding hair around your head like a crown. It's a regal choice for a night full of glamour and celebration.
16. Accessorize with Sparkling Hair Jewelry
Elevate your prom hairstyle with sparkling hair jewelry. From crystal-encrusted hairpins to dazzling hair combs, these accessories add a touch of opulence and make you shine like a star.
17. Chic and Sleek Top Knot
A chic top knot is an excellent option for those who prefer a modern and stylish look. This effortlessly cool hairstyle keeps your hair out of your face while emphasizing your facial features.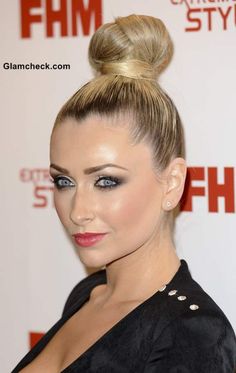 18. The Bohemian Halo Braid
Go boho-chic with a beautiful halo braid. This whimsical and charming style involves braiding hair around the crown of your head, creating a halo-like effect.
19. The Edgy Faux Hawk
Make a bold statement with an edgy faux hawk hairstyle. This daring look is perfect for those who want to stand out and show off their individuality.
20. Loose Waves with Deep Side Sweep
Embrace a classic red carpet look with loose waves and a deep side sweep. This style is both glamorous and versatile, complementing any prom dress and makeup.
21. The Timeless French Twist
The French twist is a timeless and sophisticated updo that exudes elegance. This polished hairstyle is ideal for those who want a refined and classy look.
22. Romantic Side-Swept Curls
For a romantic and feminine look, opt for side-swept curls. These cascading curls create an enchanting and alluring appearance.
23. The Trendy Messy Braid Bun
Combine the beauty of a messy bun and a braid with a trendy messy braid bun. This fun and modern hairstyle adds a playful touch to your overall look while keeping your hair stylishly in place.
24. The Effortless Beach Waves
If you're dreaming of a carefree and beachy vibe, go for effortless beach waves. This laid-back hairstyle is perfect for a relaxed and fun-filled prom night.
25. The Chic Low Ponytail
For a sophisticated yet understated look, opt for a chic low ponytail. This sleek hairstyle keeps your hair polished and fuss-free, making it a great choice for dancing the night away.
Prom Hairstyles FAQs
Here are some frequently asked questions about Prom Hairstyles for 2023:
Q: How do I choose the perfect prom hairstyle for my dress?
A: When selecting a prom hairstyle, consider the neckline and style of your dress. For instance, if you have a strapless gown, an updo can highlight your shoulders and neck. If your dress has intricate detailing around the neckline, a simple hairstyle like loose waves or a low ponytail can complement it beautifully.
A: To ensure your prom hairstyle stays intact throughout the night, use a strong-hold hairspray and hairpins to secure any loose strands. You can also apply a small amount of hair oil or serum to control frizz and add shine.
Q: Can I style my own hair for prom, or should I go to a salon?
A: It depends on your comfort level with hairstyling. If you're confident in your skills and have practiced the hairstyle beforehand, you can certainly style your own hair. However, going to a professional salon can guarantee a flawless look and alleviate any stress on the big day.
A: Short hair can be just as stunning as long hair for prom. Consider sleek pixie cuts, textured bobs, or elegant finger waves for a chic and glamorous look.
Q: How far in advance should I plan my prom hairstyle?
A: It's advisable to plan your prom hairstyle a few weeks before the event. This allows you to experiment with different styles, schedule a trial with a hairstylist if necessary, and ensure your hair is in its best condition.
Q: Are there any hair accessories that work well with prom hairstyles?
A: Yes, hair accessories can elevate any prom hairstyle. Consider embellished hairpins, headbands, tiaras, or even fresh flowers to add a touch of glamour and personality.
Conclusion
Prom night is an extraordinary event that calls for an extraordinary hairstyle. The right hairstyle can boost your confidence and make you feel like a red carpet star. From elegant updos to bohemian braids and glamorous waves, the options are endless for Prom Hairstyles 2023. Choose a style that reflects your personality, complements your dress, and makes you feel like the belle of the ball.
Remember, proper preparation is key to achieving the perfect prom hairstyle. Whether you decide to style your own hair or seek the help of a professional, practice and planning will ensure that your hair looks flawless and lasts throughout the night.
So, go ahead and let your hair steal the spotlight on your special night. With these stunning Prom Hairstyles 2023, you're guaranteed to be the center of attention and create memories that will last a lifetime.
Get ready to shine like a star on your prom night with these captivating Prom Hairstyles for 2023. No matter your style or hair length, there's a perfect look waiting for you. So, make a statement, embrace your inner diva, and enjoy a night of glamour and celebration. Wishing you a fabulous and unforgettable prom night!